ThermiVa is an innovative treatment for women to restore their health, well being, and satisfaction.
ThermiVa is a non-invasive, non-hormonal treatment that uses radiofrequency energy to gently heat tissue promoting new collagen growth and elastic fibers.
The benefits of ThermiVa not only include new collagen growth, but also increased sensation, moisture, and improvement in symptoms of urinary incontinence.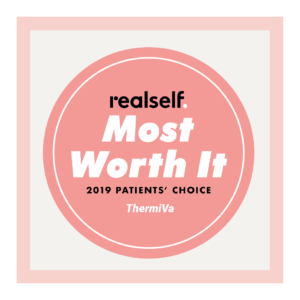 For more information on ThermiVa, please visit this excellent blog post from realself.
Are you a candidate for ThermiVa?
With age, a decline in hormone function, a woman's vagina loses collagen and elasticity, leading to increased dryness and discomfort. Almost everybody is a candidate for ThermiVa treatment for urinary incontinence.
If you suffer from:
vaginal dryness or pain
urinary frequency, urgency, or incontinence
urinary tract infections
difficulty achieving orgasm
a decrease in genital sensitivity
interstitial cystitis
oversized labia
ThermiVa is a great option to let you feel like yourself again.
What can I expect from the procedure?
For best results, three, 30-minute appointments are required. The procedure is performed in-office, no anesthesia is required. A personal wand is used for each procedure so there is no risk of infection or contamination. Unlike surgery, which comes with many risks, ThermiVa is very low risk. There is no downtime and one can directly go back to activities after the procedure.
non-invasive, non-surgical, no anesthetic required
performed in office
used on both internal and external vaginal tissue
performed for your comfort
no risk of infection
no downtime
improved cosmetic appearance
improved urinary function
improved sexual health
For more information on this treatment, please visit our Patient Testimonials listed below.